A footballer who attacked a referee in Kendal earlier this month was caught on camera and arrested, police said.
Nelson Aviles-Rolon, 33, was arrested Tuesday on multiple assault charges, a Miami-Dade police official said.
The incident took place on January 8 at the Kendall Soccer Park on Southwest 127th Street.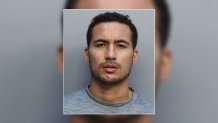 The referee, 44-year-old Yerly Briceno, has officiated several soccer games and was approached by one of the players after finishing the match.
A verbal argument ensued before Briceno was punched in the face, causing him to fall to the ground.
Police say he was kicked by Avilez Rolon while he was lying on the ground.
Only in Dade's video showed what appeared to be Aviles-Rolon hitting another referee and then kicking Briceno while others on the field tried to take control of the situation.
Miami-Dade Fire Rescue responded and Briceno was taken to a nearby hospital for treatment.
Aviles-Rolon left the scene, but was later identified and arrested. He was put in jail and given a bond of $11,500, but no information about his attorney was available.