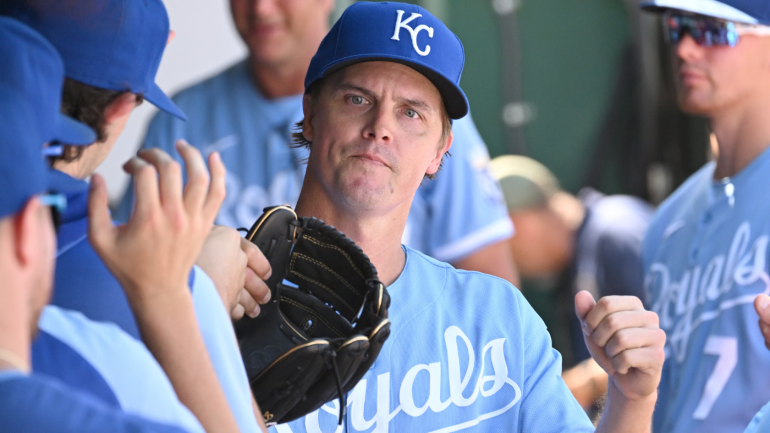 Getty Images
The Kansas City Royals have agreed to a one-year deal with free agent right-hander Zach Greinke, who will return for his 20th big-league season. According to Ken Rosenthal of The Athletic,Greinke, 39, returned to the Royals last season on a one-year free agency deal. This was his first campaign with his former team since 2010. league career. Greinke's contribution was worth more than an estimated 2.6 wins, according to estimates set by his baseball reference.
Greinke had been successful from a results-based perspective, but it was unclear whether he would retire or return for another season.
Greinke's return to the Royals is technically the third free-agent addition to the starting rotation this offseason. At the start of winter, new CEO JJ Piccolo added Jordan Lyles and Ryan Yarbrough to the mix. In addition to these he-two, Greinke looks likely to head into the new season with Brady Singer and either Brad Keller or Daniel Lynch.
Confirm that you would like to subscribe by checking the opt-in box.
Thank you for your registration.

Keep an eye on your inbox.

sorry!

An error occurred while processing the subscription.

In addition to his eight years with the Royals (nine soon), Greinke has also pitched for the Milwaukee Brewers, Los Angeles Angels, Los Angeles Dodgers, Arizona Diamondbacks and Houston Astros. He enters the season with career marks that include his 3.42 ERA (123 ERA+), 3.90 strikeout percentage, and 71.5 wins or more replacements.
For those wondering, Greinke's total and peak WAR metrics put him on par with the average Hall of Fame starter. That doesn't mean he'll actually be voted for Cooperstown when his career is over, but it does put him on the right track.