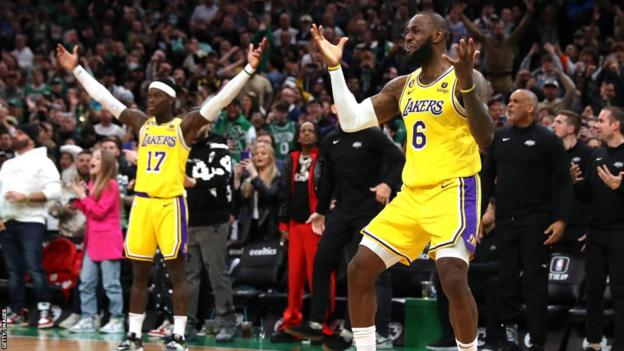 A referee in a game accused of cheating in the Los Angeles Lakers' loss to the Boston Celtics admitted to making a "bitter" mistake.
Lakers star LeBron James was challenged after Jayson Tatum missed a game-winning shot.
However, the umpire called no foul and the game went into overtime, which the Celtics eventually won 125–121.
"There was contact and we missed a play," admitted Eric Lewis, chief of the game's refereeing crew.
The National Basketball Umpire Association tweeted: "Like everyone else, umpires make mistakes.
"We made it at the end of last night's game and it's very poignant for us.
"This play is going to weigh on us and give us sleepless nights. We are trying to be the best referees."
The no-call prompted James to jump in frustration while teammate Patrick Beverly ran around the court with a camera to show official photographic evidence of the foul.
Beverly received a technical foul for his protest and the Celtics converted that free throw at the start of overtime.
Lakers star Anthony Davis said after the game that his team had been "cheated" and suggested the referee should be fined for the miscall.
Davis, who hinted that Tatum had committed a "blatant foul" on James, said: "That is unacceptable. I assure you nothing will happen to the referee."
"We were fooled. It's hard to miss a blatant call that a referee is sitting right there on the baseline. It's not fair. If referees start being fined for miscalling, that's Guaranteed to be much better, but nothing's going to be done. "
"There is no room for error," James said.
"It's one of the best games we've played all year and it's ridiculous that this is left to someone else's judgment or non-judgment. It's ridiculous."